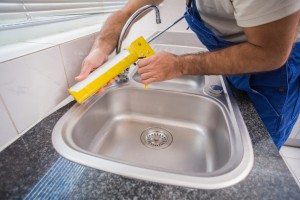 You can get the kitchen of your dreams without spending a fortune if you follow these simple tips and tricks that industry professionals don't want you to know. Kitchen designers and retail stores want you to spend a fortune remodeling your kitchen, simply because that's how they make their money.
The average amount spent on major kitchen remodels is $54,909, and for minor remodels it is $18,856. Some people spend as much as $30,000+ on cabinets alone, but that doesn't have to be you.
Tops Kitchen Cabinet is here to help you get the kitchen cabinets you want without breaking the bank! Here are 13 well-kept industry secrets to score cheap kitchen cabinets that look like they cost a fortune.
1. Buy Wholesale Kitchen Cabinets
The number one way to save money on your kitchen cabinets but still get brand new nice looking cabinets is to buy wholesale. You can save well over 20% by just cutting out the middleman. Kitchen cabinets are the most expensive element of almost every kitchen remodel, and by simply buying wholesale you can save a ton of money.
2. Only Go With Custom Cabinets If Necessary
If you buy all custom kitchen cabinets you are going to spend a fortune, and in all honesty people may or may not even notice. Unless you have a nearly unlimited remodeling budget, we recommend going with custom cabinets only in areas that require it because traditional stock or semi-custom cabinetry will not fit. For instance, if you have a small awkward space that standard stock cabinets will not fit but you don't want the space to go to waste you could have one or two custom cabinets constructed for this area. Or, you could buy stock cabinets and have custom door faces ordered and attached for a unique look that isn't insanely expensive. 
3. Save Big On Cabinet Hardware
You might be surprised how quickly cabinet hardware can add up. If you are opting for cabinetry that shows hinges hardware costs will add up even faster. The actual door handles are another aspect to consider, but one you can shop local yard sales and discount stores for. This adds excitement and a personal touch to your kitchen, while simultaneously saving money. 
4. Carefully Remove Old Cabinets
Don't use a sledgehammer to remove old cabinets, you can repurpose old cabinets if you carefully remove them. You might be able to sell them cheap or use them to outfit your garage with more storage. You also want to be careful with a sledgehammer because you could end up damaging electrical work or plumbing that runs through the wall behind cabinets. Damages translate to hiring an expert to come in and fix things, a costly addition you don't want to deal with. 
5. Spruce Up Your Old Cabinets
If your kitchen cabinets are still in decent shape you could potentially change the look of them without replacing them. Removing the cabinets from their hinges, sanding, repainting and refinishing cabinets will add new life to your kitchen. As long as cabinets are not warped by water damage, mold or anything else they should be okay to refinish.
6. Create A Cabinet Plan
Before doing anything you need a detailed cabinet plan including where everything in your kitchen is going to go, from the sink to the microwave. This is so important because cabinet location will depend entirely on the overall layout of your new kitchen.
Kitchen layout will impact the size of cabinets as well as how many cabinets you require. Starting without a plan could end in you buying excess cabinetry or even installing cabinets that have to be removed and reinstalled, both of which are costly endeavors you don't want to deal with.
Remember, when creating your new kitchen floor plan you will save the most money by avoiding moving any equipment attached to electrical or plumbing. Otherwise, add the costs of hiring an electrician or plumber to your budget, which can quickly become very expensive.
7. DIY Installation
If you have the tools and the skills to install your own cabinets, more power to you. You can save a good deal of dough going this route, but there are some things you need to be aware of to prevent a DIY disaster.
You need cabinet shims in order to ensure your cabinets are installed level. You should purchase shims prior to installing cabinets, they come in sizes that vary between 0 inches in thickness to 3/8 of an inch.

All cabinets include a filler piece, technically known as a scribe, which allows you to fill in any gaps along the wall. This allows all cabinets to be installed evenly. This important component also leaves space between the moving parts of the cabinets and the actual wall so that they don't touch or interfere.

Start installing cabinets up high and then move down the wall, it's also recommended to start at the corner and move inwards. Use a benchmark around the perimeter of the kitchen so that you can regularly measure to and from the base and wall cabinets to ensure you're on track.

Add a receptacle in a cabinet on top of the microwave so that you don't have to worry about plugging it in once you go to install it. You should hire a contractor to install the outlet in the cabinet, since electricity isn't the best (or safest) DIY project for inexperienced homeowners. 

Always nail into the studs and make sure to locate studs before you begin cabinet installation.

Typically you need two people to install cabinets but a cleat can help. Using a 1×3 or 1×2 piece of wood as a support for the cabinets helps keep cabinet boxes from moving all over the wall as you work.

Remove the cabinet doors from the actual cabinet box before installation. It might seem counterproductive but you'll thank yourself later because it's much easer to get it done this way. Having some sort of system in place is key so that you don't forget which doors and drawers go to which cabinet.
8. Worry About Customizing Cabinet Interiors Later
Instead of paying for fancy cabinet upgrades during installation you can add your own affordable upgrades post-renovations. A lazy Susan, for example, is the perfect addition to a cabinet that will change its functionality completely, allowing you to access hard to reach items with the simple swivel of the device. There are countless other products on the market that you can pick up for low prices that will help organize your kitchen cabinets. 
You can also dress up the interior of your cabinets with fabric or paint. This is especially beneficial if your cabinets include a glass door or no door at all.
9. Shop Till You Drop
One of the biggest ways to save money is to shop around. Every contractor and store is going to offer different prices, discounts and deals. The more you shop around the better chance you have at scoring great deals. Price ranges vary far more than people often realize, the same services can cost anywhere from double, triple and even 10 times the cost depending on where you go.
10. Carefully Consider Materials
The materials you choose for your cabinets will make a big difference in regards to the price tag. There are many types of wood finishes out there, and some cost a considerable deal more than others. If you pick a fancy cabinet with decorative molding you could be looking at more than $1,200 per linear foot. Is it really worth it? That's the important thing to ask, is it worth giving up other elements in order to have the highest quality wood with carved detailing? The answer is entirely up to you, but always important to consider.
11. Know What You Want When You Interview And Price Compare Contractors
When you start interviewing different contractors and collecting quotes it's important that you already know what you want. Otherwise, you're getting open-ended quotes that could be far from the real number. Some companies are cheaper for certain things than others, so knowing exactly what you want will help find the best contractor for that specific job.
12. Do You Really Want To Expand The Kitchen?
If you are thinking of making your kitchen bigger, perhaps by knocking down some walls, consider that this is going to cut into your remodeling budget considerably. For one, you will need more cabinets to fit a bigger kitchen. If you're already strapped for cash this could make your kitchen bigger but lack the same 'wow' factor you could accomplish if you kept your kitchen the same size. Seek the opinions of others to see if it's really worth it to expand your space before demolishing any walls.
13. Turn To Tops Kitchen Cabinet
Tops Kitchen Cabinet is here to help you save thousands of dollars on your kitchen remodel with our wholesale cabinets, countertops and accessories. Saving money is second nature when you shop at the same place as contractors, plus you still get all of the same cabinet options in regards to materials and styles.