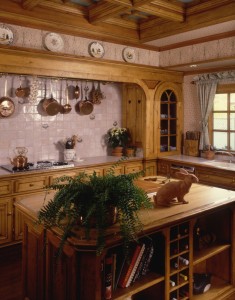 Country kitchens come in all shapes and sizes, colors and creations. How you make your country kitchen feel like home is entirely up to you. Some country kitchens border the rustic-side with rich accents and plenty of cluttered details, while other country kitchens play homage to more simple designs.
The one thing all country kitchens need is a warm and inviting feel that makes visitors (and you) want to kick up your feet and enjoy a nice home-style meal, made fresh from the farm of course! Even if you have a new home, and not an 1860's rustic farmhouse to decorate, you can still bring the country feeling to life. It's all about the accessories and little details. Here we explain 5 key components to creating a great-looking country kitchen you and your guests are sure to love.
1.   Country Kitchen Cabinets
Your kitchen cabinets make up a big portion of your kitchen space. Therefore, the design of your cabinets will influence the overall appearance of your kitchen. If you are going for a country look, what should your cabinets look like?
Cabinets need to be warm, comforting, and have a timeless appearance. Country kitchens should be efficient and useable, and tend to be crafted with high quality wood. Pine is one of the more affordable wood options frequently used in country kitchens because of the unique knot detailing found. Other popular woods used for country cabinets include maple, hickory, oak, and cherry wood (More information on top quality woods). While these options tend to cost more than pinewood, they are known to hold up better and last longer.
Country-style cabinets can be painted white or bright shades of color, both are considered 'country' in a different way. No matter the color, you can use distressing techniques to give cabinet doors a rustic charm by applying milk paint or other glazes.
If you really want to go all out, you can remove the cabinet doors from a few of your cabinets. You can leave them open-faced, or add fun curtains over the front for a very country look. You can always store the doors to your cabinets somewhere safe so that if you decide later on the 'curtain-look' is not for you, you can just screw your doors back on.
2.  Country Kitchen Hardware
The detailing on your cabinet hardware is another place where you can add a touch of country. Adding antique vintage handles or a mixture of different cabinet handles is one way to play with the design. You don't want to add small silver round handles to your country cabinets, that will make it look more modern. Instead, look for larger, more gaudy handles that look like they could be new, or could have been fashioned years ago.
3.  Furniture For A Family-Friendly Country Kitchen
Wood furniture is a good place to start when adding a more country appeal to your kitchen. All country kitchens need a big table for feeding plenty of people at once. Salvaged wood offers an affordable way to get wood with plenty of rustic charm. With country décor you don't want to match too much, it's best to mix and match different wood pieces that go together but have different appearances, almost like they were all purchased at separate times.
4.  Shelving is Everything
A huge staple for country décor is plenty of clutter. Shelves serve as the perfect space to show off teacups, figurines, cookbooks and more. No one wants a 'messy' kitchen, but a bit of organized clutter definitely helps play up the country appeal. Shelving can be placed on your backsplash, above the kitchen table, hanging near the fridge, or just about anywhere—just make sure you buy a duster!
5.  Country Kitchen Flooring
What about the floors… are your floors country enough to kick it? When picking out the right floors for your country kitchen ask yourself: could this flooring have been picked out 100 years ago, as well as today?
Some great flooring materials to bring out the country in your kitchen:
Painted or natural wood floors
Brick floors
Reclaimed/salvaged wood floors
Randomly placed slate tiles
Randomly placed slate tiles offer a modern appeal but the mismatched pattern you assort them in will provide the country, old-school style you are seeking. Word of warning, this type of flooring is not the most comfortable to stand on, nor is it the easiest to keep clean, and it requires a good deal of maintenance. So while slate tiles add a really unique country appeal, they are not the easiest floors to keep up with (See here).
Two things all country kitchens have in common are character and charm.
For country kitchens that really pop, contact Tops Kitchen Cabinet today!  We offer high quality kitchen remodels for affordable wholesale