Love Your Kitchen with these Kitchen Decorating Ideas
When is the last time you re-decorated your kitchen? Back in 2011, a study conducted by Home Goods found 47% of Americans had not changed their interior decorating in over 5 years, while 9% hadn't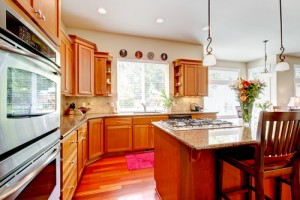 changed a thing in at least 10 years. Since 2011, a lot has changed economically and many people are now making the investment to upgrade their home. Some of us can't redecorate enough, constantly rearranging furniture or putting up a new kitchen display above the stove. You don't have to make major changes in order to freshen up an old space, here are 7 great kitchen decorating ideas that won't break the bank but will provide big changes regarding the overall look of your kitchen.
1. Install Floating Kitchen Shelves
Need even more cabinet space? Try adding decorative floating shelves, here you can either place functional day to day items like dishes or measuring cups, or you can store decorative knick knacks that only get moved when it's time to dust. A floating shelf is easy to hang and can change the look of a certain wall or space. Aim for a shelf that matches the overall décor throughout your kitchen, but just because it should match doesn't mean it has to be exactly the same. This is a great way to add to your current décor, for example if you have splashes of white throughout your kitchen, try adding a black shelf with white dishes on top for a modern touch of style.
2. Paint Your Kitchen Cabinets
You might be getting tired of the light colored wood you loved so much when your kitchen cabinets were first installed, it's normal to crave change and something new. If your cabinets are still in ideal condition you likely don't want to have them removed completely, so instead just have them painted a different color. So long as the job is done professionally and with proper care, your final outcome should provide a bright change of style. With different colored cabinets, you have the opportunity to change around other design elements too, in order to bring together the new tone of the kitchen decorating. Not only can you change cabinet color, but also there are unlimited options when it comes to interchangeable cabinet knobs, the handle a door face has can hugely update or change the look of a cabinet. Turn a white kitchen into a sea of blue with masculine steel knobs, or paint wood cabinets black with shiny white knobs.
3. Paint A Backsplash Wall
Not yet ready to truly take the plunge and paint all of your cabinets, or kitchen walls for that matter? That's okay, take it slow and start small, instead try painting a small backdrop wall. A great place to paint an accent wall is behind the stove; just make sure paint lines are straight and even. Perhaps this burst of new color will inspire you to get colorful throughout your whole kitchen decorating, but for many it serves as the perfect change on its own. Instead of painting you can also lay marble, tiles, or other materials onto an accent wall for a 3-dimensional look that truly wows.
4. Add A Kitchen Island For Convenience And Style
Having counter space at the center of your kitchen to cook, congregate, and store things is a blessing one quickly forgets how to live without. Since not all kitchens come complete with a center island, there are many affordable portable islands (usually on wheels) that you can use in your kitchen for both décor and convenience. Many people even turn these into fun DIY projects, using old shutters and a few slabs of wood to create great looking kitchen islands that are free (or almost free).
5. Add your Favorite Color To Your Kitchen
Think of your most favorite color; is it present in your kitchen already? Maybe your favorite color is a bright pop of teal, or a certain shade of pink you don't always think to incorporate somewhere like the kitchen. By distributing fun accent pieces in your favorite color (vases, dishes, mugs, figurines, etc.) you can make your kitchen space feel even more like home. If you prefer an all white kitchen, here are 8 Tips on Creating a White Kitchen that Works.
6. Dress Up Your Windows With Unique Textiles
If you pick a bold or bright textile pattern for your window coverings you can completely change the look of your kitchen. Peoples' eyes will be drawn to them the moment that they walk in your kitchen, not only because they are new but because they offer a unique, exciting pattern to look at. A set of nice window treatments can make a kitchen look more completed and overall high-end without tearing down any walls.
7. Change Your Chairs
Perhaps you've been using the same bar stools for the last…forever, if so it might be time to make some changes. By adding colorful stools, or chairs that standout in some way, you are changing the look of your kitchen. Swapping out the chairs around a table for new ones can make an old table look young again. If you don't want to rebuy chairs, you can always reupholster the ones that you already have. Some chair designs make this easy to do yourself without any sewing skills. If you can dis-attach the top cushion from the chair frame, all you need is a square of fabric that you can wrap all the way around to the bottom. Once it is pulled tight and smooth on top, secure the fabric to the bottom of the cushion with a pin, staples, or whatever you have on hand, before placing the newly upholstered cushion back onto the top of the chair frame.
Find 19 More Kitchen Decorating Ideas!