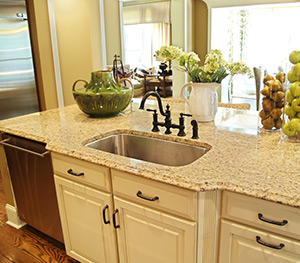 Did you know that adding cabinet hardware could actually improve the look and durability of your kitchen cabinets? It's true! Adding a knob to your kitchen cabinet can reduce the number of times people slam it open and shut. Plus, since cabinets are often opened while cooking and cleaning, oils and other substances will be transferred to the cabinet hardware instead of your cabinets themselves. Durable and sophisticated, cabinet hardware offers unique style to your kitchen, as cabinet hardware comes in great variety of materials, colors, and overall styles. Enjoy rustic, fancy, classic, or intricately detailed knobs—you can even mix and match your hardware, using crystal knobs on some cabinets and porcelain handles on others, the options are endless! All of this variety can start to feel overwhelming; here we provide the basics about cabinet hardware, including types of hardware and materials used.
Types of Cabinet Door Knobs
Cabinet knobs can be big or small, hung on by one screw or two. Here are some of the most popular knob designs for cabinets.
Cabinet Knob
As the most popular and well-known hardware for cabinets, the knob attaches with one screw and is literally, a knob! Knobs can be decoratively shaped like starfish or kept simple in design using plain sterling silver.
Cabinet Pull
This type of hardware knob for cabinets can look like an upside down bathtub to the overly active imagination. Specifically designed to open drawers, some people also use this more intricate handle on their cabinets too. Attached by 2 sets of screws, the cabinet pull has a wider handle for added convenience when tugging open your cabinets and drawers.
Drawer Pulls (a.k.a Cabinet Handles)
This type of hardware is often bulkier than other options, typically ranging between 3-4 inches long. Drawer pulls are attached using 2 or more screws and can be very ornate or kept simple.
Bail Pull
At first glance this type of hardware might remind you of something on a nice dresser. It is attached by 2 or more screws and contains a decorative loop handle that can really dress up your kitchen cabinets and/or drawers.
Appliance Pull
This is a common hardware piece for kitchen appliances such as the trash compacter, dishwasher, or fridge. Large and in charge, these handles are made to withstand a lot of use.
Types of Materials Used For Cabinet Hardware
Stainless steel, solid brass, stain nickel, the options are endless when it comes to cabinet hardware — so which is the best material for your kitchen?
Brushed Nickel Hardware
Brushed nickel finish includes dulling brass and then applying a nickel-plating on top. Brushed nickel hardware tends to have visible abrasion lines due to being "wire brushed." This hardware material provides a more dull appearance.
Satin Nickel Hardware
Satin nickel is similar to brushed nickel, but the finished product is a smooth and shinny surface without the abrasion lines brushed hardware contains. Satin Nickel goes on much smoother because it is electro-deposited using Nickel Sulfamate, or some type of nickel salt solution.
Stainless Steel Hardware
Stainless steel provides a good quality, durable knob material. With wear and tear stainless steel is easy to clean, looking like new with some polishing. This type of hardware offers a very modern or contemporary look. (Read More)
Brass Hardware
Brass hardware is softer and more pliable than stainless steel. Although with exposure to air, real brass tarnishes over time and is not recommended in areas near water. You can tell if hardware is 100% brass by holding a magnet up to it—real brass is not magnetic, but brass plated is magnetic. (More Information)
Don't allow these options to curb your creativity; you can get hardware handles for your kitchen cabinets in a number of other materials including crystal, gold, or PVC.
Keep Your Cabinet Hardware Clean
As you do things around the kitchen you likely pop open cabinets without first washing your hands, over time this creates a buildup on hardware that should be cleaned regularly. If you remove your hardware with a screwdriver you will find a lot of built up scum and grim in unseen areas. For water-safe knobs, soak in a bucket of warm soapy water, and then scrub at stubborn stains using a toothbrush or similar tool. If your hardware is metal, apply metal polish with a soft cloth for extra shine. In order to protect materials such as wood, glass, or porcelain make sure kitchen cabinet knobs are completely dry before re-screwing them into place.