Custom Cabinets Vs. Stock Kitchen Cabinets: Which is the Best Option For Your Kitchen Remodel?
Want to fall in love with your kitchen all over again, while also adding value to your home? A kitchen remodel can completely change the look, feel, and cost of your residence. Think of the design catalogs and home magazines you might browse through, it's the little details that make the biggest impact. When it comes to remodeling there are a number of routes one can take, for instance custom cabinetry can be crafted to match your kitchen and tastes, while stock cabinets can also be purchased at a lower cost and still add a big upgrade.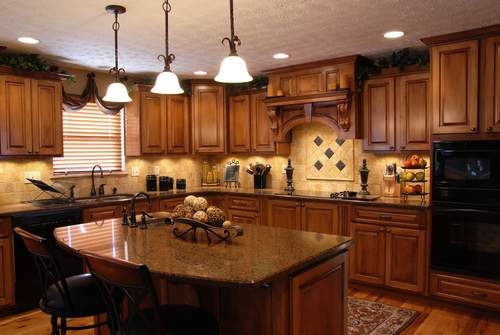 A common fear when the words 'remodel' are uttered is money, and understandably so considering cabinets can account for around 1/3 of total kitchen remodeling costs. You are right to assume that a custom made cabinet is going to cost more than a stock cabinet purchased from your local supplier, although you do get what you pay for and in some kitchens the costs equalize over time. To make the best decision for your budget and goals, learn the standard differences between stock and custom cabinets.
Pros and Cons to Stock Kitchen Cabinets
Stock cabinets are pre-designed and sold ready to order, offering a faster, and cheaper solution to kitchen cabinets.
Pros to Stock Kitchen Cabinets
A nice variety of finishes and colors are available to choose from.
It is easy to replace a damaged stock cabinet, simply re order another just like the ones you already have from the manufacturer.
Stock cabinets come in standard sizes, 6-42 inches wide and in increments of 3-inches. For do it yourself projects, or first time remodelers, this can offer a simple solution for standard sized kitchens.
A designer kitchen without the cost; manufacturers often use lower cost materials such as plywood or melamine, adding a few coats of veneer to keep cabinets looking fresh and glamorous.
The Cons to Stock Kitchen Cabinets
Don't assume that if you are ordering stock cabinets that they will be available right away. Most often, you will have to wait for your order to process, be manufactured, and then delivered.
Depending on where you shop for stock cabinets, sizes and styles can be limited.
The National Association of Home Builders reports kitchen cabinets should last 100 years, but don't expect so much out of your stock kitchen cabinets. Sure they won't likely fall off their hinges in only 5 years, but within 5-15 years they tend to show signs of deep wear and tear.
Does your kitchen posses an awkward layout? Do you have difficult corners to fill where you plan to install cabinets? If so, you might run into issues with stock sized cabinetry that isn't made to be unique.
Pros and Cons to Custom Cabinets
The eye of a professional cabinet designer can craft custom cabinets to fit your kitchen and personal style. Custom cabinets might cost more but they offer flexibility, personalization, and a higher quality of finished product.
Pros to Custom Cabinets
Don't waste an inch of space! A professional joiner will create the most productive kitchen possible using the unique dimensions and floor plan of your kitchen. For trickier kitchen designs this can create the most functional design.
Having troubles deciding what you want? A cabinet designer can offer ideas and inspiration for an amazing look that never would have surfaced without a professional's opinion and craftsmanship.
Custom cabinets are usually made using higher quality cuts of wood, and materials including joints and hardware, meaning they will better withstand the test of time.
Cons to Custom Cabinets
You are going to pay more. After all, you do get what you pay for.
If you are remodeling to sale your home, the costs of custom cabinetry might be higher than they are worth. For starters, custom cabinets tend to represent your personal style, a style that potential buyers might not appreciate, therefore plain cabinets might be a better selling point and cost less money.
Custom cabinets take more time to design, manufacture and install.
The Price Difference Between Custom and Stock Kitchen Cabinets – The average kitchen has 30 cabinets in it, installation of these cabinets can range anywhere from $15,000- $45,000. This is clearly a wide spread, and largely depends on whether custom or stock cabinets are installed. Custom cabinets fluctuate around $500-$1,400 per linear foot, while stock cabinets averages between $75- $400 for every linear foot. Assess your personal preference, budget, and long term goals to make the best decision for your kitchen remodel.