How to Choose a Range Hood for Your Kitchen
Thinking about upgrading your kitchen with an over the oven range hood? These functional and stylish kitchen additions are showing up everywhere and it seems every remodeler is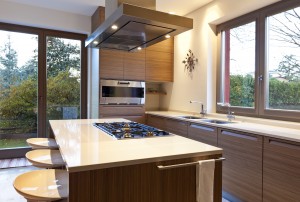 interested in installing one. Typically, in the past, over the oven sits the microwave—it's convenient, looks nice and helps save counter space. Exchanging your convenient microwave for a range oven hood can offer many benefits, and you don't have to sacrifice your microwave in the process. We can create a fully functional storage cabinet for your microwave, helping you save space and reap the benefits of a range hood.
A high quality range hood can capture large amounts of steam, smoke and fumes, stopping toxic substances from filtering throughout your home. Due to convenience and versatility, range hoods are becoming a staple in designer kitchens, although no two look exactly the same. Depending on your style and budget, the perfect kitchen range hood for you might vary; here we provide answers to some of the most commonly asked questions about range hoods for kitchens.
What Does A Range Hood Do?
While a range hood looks great and adds a professional appeal to any kitchen, range hoods offer more than just aesthetically pleasing benefits. A high quality range hood can efficiently filter the air in your kitchen, including different pollutants like smoke and charcoal. If there are any dangerous fumes in the air the range hood can suck them away, either releasing toxins outside or filtering them before releasing back into the air.  This means you can contain cooking smells where they belong, in the kitchen!
Every year the oils that we use to cook let off smoke that works its way onto counters, walls, ceilings, cabinets and appliances, creating a yellowish build up that can make your kitchen look old, or at least in need of a new paint job. A range hood will help filter out these oils before they have the chance to do damage, helping your kitchen retain its original shine.
What Are Some Common Types Of Range Hoods For Kitchen Remodels?
Range hoods come with a variety of features; some have nifty lighting, some are noisy, and others are quiet but might contain less fan power.
Some of the most common types of range hoods include:
Under-Cabinet & Ductless Range Hoods
As the name suggests, an under-cabinet range hood features a set of cabinets, or one large cabinet, above the top lip of the hood. This is convenient for those that don't want to lose any storage space, plus under-cabinet range hoods are often the most economical option. Sometimes compared to a ductless range hood, this type of range hood will filter air and then release it back into the kitchen in a cleaner state. Ductless range hoods work but are not always as effective as duct range hoods, which transport all collected toxins and smoke outside. As technology improves, ductless range hoods work with higher efficiency, even filtering out things like charcoal. (http://www.houzz.com/discussions/88571/How-important-is-it-have-your-hood-vent-to—)
Wall Mount Range Hoods
When you picture a range hood, you likely envision the wall mount range hood, as this is the most classic and arguably popular style of over the stove hoods. The duct is typically visible in this design, and runs up the length of the wall directly behind the stove. With a duct range hood all toxins and smoke from cooking will be filtered outside. This requires more invasive installation than under-cabinet range hoods but offers a stylish, high-end look that will increase the value of your home while also greatly reducing the number of toxins present.
Island Mount Range Hoods
If your stovetop burners are located on your center island in your kitchen, you will want to install an island mount range. Hung directly down over the center of your island, the duct is visible as it extends up and attaches into the ceiling. People commonly pick stainless steel for island mount range hoods, which can provide anything from a modern to rustic appeal, depending on the rest of your kitchen décor.
How To Customize Your Range Hood
Range hoods place a big focal point on the wall space behind the stovetop; in many kitchen remodels brickwork or tiling is used as a decorative backsplash. This design can be unique from the rest of the kitchen or carry the same underlying materials to help tie everything together. Most commonly, cabinets are incorporated with the range hood because what's a kitchen without great cabinets? Some range hoods are much more discreet than others, tucked up beneath crown molding and convenient kitchen cabinetry, while others stand bold and proud in eye-catching shades of stainless steel.
Range hoods come in every style possible, stylized to fit your needs, budget and personal style. When pairing a range hood with high quality cabinets, look no further than the kitchen remodeling professionals at Tops Kitchen Cabinet.