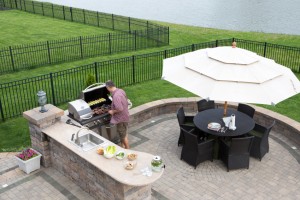 Your yard is an extension of your house, a place you can transform into anything you want, including a high-end outdoor kitchen even if you're on a budget. More and more people are creating outdoor kitchens, living rooms and other types of living spaces. These sorts of additions add serious value to your property, but once you add them you will likely love your house too much to move anyway!
An outdoor kitchen is the perfect excuse to throw a party, but it's also a great place to kick back and relax with your family. Most outdoor kitchens include a seating area, prep and cooking area, and some storage. From this basic outline you can add and subtract to build your dream outdoor kitchen on a budget, here's how…
Start By Creating A Budget
Finding out if you can afford a new outdoor kitchen starts with creating a budget including how much you can afford to spend and all expected costs. Add up the costs of all things you ideally want to include in your outdoor kitchen. Does this price match with your original budget? If you're way over budget and the project hasn't even started yet it's time to go back to the drawing board and exclude some things you don't really need, or can always add on later.
As a frame of reference the average cost for outdoor kitchens range between $3,000 and $15,000, the larger number represents a full countertop kitchen equipped with a number of appliances.
After setting the amount for how much you want to spend you must ask yourself a rather important question: What items do you want to add to your outdoor kitchen?
Take a moment to picture your dream space, what does it look like? How many people use it at once? How often do you use it? What will you cook outside? All of these questions equate to what your kitchen needs to be functional for you, which is different for everyone.
Here are some of the more popular items people add to their outdoor kitchen and how much you can expect to spend.
An Outdoor Grill
A grill is a popular choice because it is the most common way to cook outside. A grill can range all the way from $400 to over $3,000. No matter your budget you can get a grill, it's just the type of grill, how large, and if it's built-in or freestanding that will impact price. Gas grills are going to cost the most, ranging upwards of $4,000 for a higher end model.
Side note: if you get a charcoal grill you will spend approx. $3.50 every time that you use it and if you get a propane grill you only spend $.60 every time you use it.
Outdoor Countertop Space
Counter tops will greatly impact any budget but they are a must when building your outdoor kitchen. The first step is to figure out how much counter space you really need. You may need space for the sink and grill to mount to the countertops, as well as any other accessories you are considering. Plus, you'll need prep space.  Many people choose to incorporate bar seating on the opposite side of the countertop, offering a prep space and gathering space all in one. This idea may help you save money because you won't have to purchase a table or create a separate eating area.
Outdoor Kitchen Sink
Speaking of countertops you'll need a sink to mount in there. Without a sink a kitchen becomes a much more complicated and messy place. Sinks can range anywhere from $100 to $500+. You probably won't need anything fancy; a basic sink should do the trick.
Kitchen Appliances
Do you need a refrigerator ($200+) or any other type of appliance outside? If so, don't forget to add this up too.
Outdoor Kitchen Furniture
Outdoor furniture (bar stools, tables and chairs, etc.) are key to completing your outdoor kitchen. Find the style furniture you are envisioning, add up total costs and tack onto the budget. You don't have to splurge on brand new furniture, save money by looking for discount finds at thrift stores and garage sales.
Total Cost Of Installation
Installation is one of the most important components of an outdoor kitchen but it's going to cost you some money. If you have the skills and knowledge to build your own outdoor kitchen you can save a ton of money, especially if you buy all of your materials wholesale. If you don't plan to go DIY style, outdoor kitchen installation typically costs anywhere from $2,000 to $5,000+.
Once you calculate all of the things on your wish list you might be feeling a little concerned about the number staring back at you. Thankfully, there are plenty of ways to save money on your outdoor kitchen.
11 Tips For Saving Money On Your Outdoor Kitchen
Here are some of the best tips for staying on budget while building your dream cooking space.
1. Avoid The Most Costly (And Often Unexpected) Expenses Of All
Building an outdoor kitchen can get pricey, but there are certain things that will really tip the budget over scale. Anything that involves the need for a contractor or professional, such as plumbing or electrical work is going to cost you a lot more money and hassles. You can avoid this by simply designing your kitchen so that it is close to your home and a water hose.
2. Portable Counts
If your budget is tight portable appliances might be the perfect solution. First of all they are usually cheaper than built-in appliances, and you can move them with you wherever you go in the future. This also gives you the option to upgrade your kitchen as your budget allows without spending anything extra to move things around.
3. Ditch The Island For A Cart
An outdoor kitchen island is a fantastic addition if your budget has the room for it but there are far more affordable alternatives. A rolling beverage or food cart offers a perfect solution, giving you a place to prep and store things for as little as a couple hundred dollars. Plus, since it's portable you can move it wherever you need it. 
4. Fire Pit Vs. Fireplace
A luxury outdoor kitchen often includes a large fireplace for staying warm and roasting marshmallows. Building an entire fireplace can be extremely costly but that doesn't mean you have to miss out on all of its benefits. A fire pit can be dressed up to look just as nice in its own right as a full-size fireplace. Plus, it keeps people warm and promotes the eating of s'mores… in other words you can't go wrong! There are so many options when it comes to building a fire pit allowing you to get creative according to your budget. (Reference)
5. That One Extra Special Touch
There are endless high-end features in outdoor kitchens these days, but that doesn't mean you need them all. Pick your favorite feature from the list to splurge on, say for instance a pizza oven or warming drawers.  Granite countertops are another upgraded option that will make your space pop. Since your outdoor counters have far less surface space than your indoor counters they are more affordable to upgrade with high-end materials.
6. Buy Pre-Made Bar Or Grill
A pre-made outdoor grill island or bar-style structure is going to cost less than a custom built feature. This option is more affordable as well as flexible. Add a wood or brick structure around and over the pre made bar/grill to make it look like a permanent fixture. This will also help protect your kitchen and guests from the environment.
7. Use Salvaged Materials If Possible/Accessible
Create pillars, a walkway or a backsplash using salvaged materials, which you can pick up cheap and sometimes even for free. Saving money on materials is a great way to score a unique style without breaking the bank.
8. Dress It Up With Décor
Décor makes a big statement to any space. You can dress up a kitchen on a budget with just the right accessories and stand out pieces. Potted plants, window boxes, decorative statues, waterfall elements… there are so many things you can do to create a uniquely high-end look. Add strings of lights or vintage mix-matched lawn chairs if you're going for a more rustic look. Regardless of style, hanging plants or decorative lighting fixtures from the overhang makes for a great statement.
9. Durability Over Cost
Your outdoor kitchen is outside exposed to the elements. The last thing you want to do is go with the cheapest option only to have to replace it the following year. This is no way to save money; in fact it will turn your outdoor kitchen into the exact definition of a 'money pit.' Since your kitchen is an investment you want to spend wisely, and sometimes spending a little more can be cost-effective. (Reference)
10. Keep Cool With A Ceiling Fan
A ceiling fan offers some relief from the heat, looks nice and won't even come close to breaking the bank. In fact, you can pick one up for under $100. If you're not too concerned about having a fan you could dress up your space with an eye-catching chandelier.
11. Buy Wholesale
You can buy your kitchen cabinets, countertops, faucets and more at wholesale prices from Tops Kitchen Cabinet. Our prices make a high-end outdoor kitchen possible on any budget! Check out our wide selection of inventory today and start planning the kitchen of your dreams.