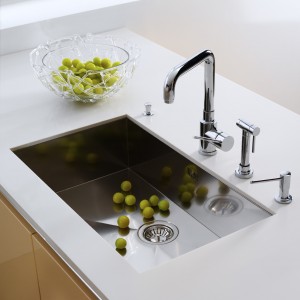 There are many types, styles and even sizes of kitchen sinks on the market. If you are feeling overwhelmed by all of your options there are a few things you need to know that will make your decision a whole lot easier. Tops Kitchen Cabinet is here to help you create the kitchen of your dreams on any budget, and we have broken down the kitchen sink by materials and styles. We made sure to include all of the pros and cons to simplify your decision. First, let's start with the different kitchen sink materials available.
Kitchen Sink Materials
Stainless Steel
Stainless steel kitchen sinks are the most common for kitchen remodels in Florida. Around 70% of all sinks are made out of stainless steel. The price for stainless steel varies largely depending on brand name, but remains one of the most affordable options compared to other materials. The other great thing about stainless steel is that it is made to fit a number of installation types including top mount and undermount sinks (which we get into later). 
The gauge steel you pick will influence overall cost. There are two gauge types used to define steel, lower gauge steel and higher gauge steel. Lower gauge steel is heavier and higher gauge steel is lighter. The majority of household sinks are in the 15 to 24-gauge range, this translates to steel sheeting that measures between .048 and .039 in thickness.
You might assume that heavier steel equals better steel, but that isn't necessarily true. According to Consumer Reports, the actual gauge has little to do with long-term durability. A heavier gauge sink is a little less likely to dent and tends to be less noisy. Although, all stainless steel produces more noise than other materials, which is why sinks are often coated or padded to reduce noise. Also, it is going to take a lot to dent either gauge steel.
The cons to stainless steel include it is more difficult to keep clean and free of water spots. Plus, this material is more prone to developing surface scratches. The pros are affordability, a classic look and overall durability against heat and stains.
Cast Iron Sinks
Still popular today, cast iron is one of the original materials used to make sinks. People are often attracted to the glossy enamel finish that comes with this material. The process of casting iron is used to make these sinks, but since iron is prone to rusting, sinks are finished with heavy porcelain. If you remove this top porcelain layer the sink would have the same course texture as a cast iron skillet. This porcelain topcoat is not just painted on, it is literally melted glass fused to the iron. Glass is fragile but this sink is not, in fact it is great at resisting stains and scratches. Plus, cast iron isn't as easy to scratch as stainless steel.
Cast iron has drawbacks, starting with the higher cost. If you want different colors or unique styles you are going to pay even more. Also, if the porcelain overcoat has a chance to chip off the sink will rust—although it is unlikely for modern porcelain to chip.
Composite Sink
In most cases if someone references a composite sink they are talking about a quartz or granite composite. Combining one of the two, quartz or granite, with resin filler makes this type of sink. This combination creates the high-end look of granite or quartz without the high-end maintenance, as the resin element makes it much more durable. Granite-based composite sinks are known to last longer than quartz-based sinks, but both are pretty durable and resistant to stains and scratches. The major drawback to this type of sink is the cost, which is going to run on the upper end.
Fireclay Sink
Fireclay sinks are seen less often but remain a viable option. The manufacturing process starts by molding ceramic clay, which is then dried at high temperatures for 40-hours. After the clay is dry a coat of porcelain enamel is added before putting the sink in a tunnel kiln to bake around 2,000 degrees Fahrenheit for 20-hours. The point of this is to literally fuse the enamel to the clay. This makes it more durable than cast iron, but it definitely isn't indestructible and this type of sink is likely to chip if you drop a pan too hard on it.
Not only are fireclay sinks less durable than other options, but also they are pretty pricey. Starting prices exceed high-end stainless steel options. The most common application for a fireclay sink is in traditional farmhouse kitchens where style outweighs durability and cost.
Kitchen Sink Styles
Once you pick the material that works best for your budget and lifestyle it's time to pick the perfect kitchen sink style. In most cases all of the following sink styles can be made out of any materials outlined above. The most common kitchen sink style options include:
Double Bowl Sink
Double bowl sinks are the most common type of sink seen in homes. The reason it is the most popular is because it is the most flexible and practical in terms of use. Not all double bowl sinks are large; in fact they vary wildly in size. If you do a lot of cooking you want to make sure the size of at least one basin allows you to comfortably wash large pots and dishes. The actual sink faucet you choose will also influence ease of washing larger dishes.
There are many options for double bowl sinks, including two bowls that are the same exact size, and two bowls of different sizes.  You must have adequate space to install this type of sink otherwise you end up with two impractically small basins.
Single Bowl Sink
If you don't need two basins or are limited on space you might be interested in a single bowl sink, which as its name suggest only includes one sink basin instead of two. While double sinks are more common single bowl sinks serve their purpose as well. For instance, if you have limited space this type of sink allows you to get the most out of an area because it's better to have one large space as opposed to two small spaces that are too tiny to work with. Going with a single bowl sink gives you the opportunity to have a larger basin, which can make washing dishes a whole lot easier. Plus, this type of sink is easier to clean and cost less.
Farmhouse Sinks
You can easily identify a farmhouse sink because the front facing section of the sink is a continuation of the sink materials, as opposed to traditional countertop space. Farmhouse sinks are largely popular in country or traditional style kitchens. Single bowls are the most common but you can get farmhouse sinks with double basins as well. This isn't the best option if you are on a tighter budget, as this type of sink tends to be one of the most expensive, not only to buy but also to install. Installation gets pricey because the actual countertops surrounding the sink need to be designed in a way that allows for installation.
Top Mount Sinks
A top mount sink, also known as a drop-in sink, is made to fit inside of a pre-fashioned hole in your countertop. In order to make this work, top mount sinks have a lip that holds the sink in place as well as creates a finished appearance.
This type of sink is the easiest and least expensive option to install. Since the sink rests on the countertops you don't need an elaborate internal support system installed. Top mount sinks make for a great DIY sink or a good option if you are on a tight budget.
The ease and affordability of this sink does come with some drawbacks though. For instance, cleaning isn't as easy because things can get trapped under the lip or rim of the sink as it protrudes up slightly from the surrounding countertop. Plus, they lack the sleek and seamless appeal of undermount sinks.
Undermount Sink
An undermount sink sits flush with your countertops and is mounted underneath the counter as opposed to on top of it. This means your sink has no lip or visible rim, instead the countertop literally just drops off into the sink. This makes cleaning surrounding countertop spaces easier because you can just push debris directly into the sink without it getting trapped in the lip crevice of a top mount sink.
Not only do undermount sinks make cleaning a breeze, but they also offer a higher-end sleek look. The biggest disadvantage is the cost, as undermount sinks cost more than top mount sinks. The higher cost relates directly to installation because a support system must be installed underneath the counter to hold the sink up. In some cases, stainless steel sinks can be held up with only glue because they are lighter. Other materials such as cast iron or fireclay require more sturdy internal support systems. The majority of undermount sinks do no come with pre-fashioned spaces for faucets and other attachments. As a result, these accessories must be applied directly to the countertop, which means even more installation work and money.
Finding the right kitchen sink for you boils down to budget, the size of your sink space, and how you plan to use your sink. Thankfully you can mix and match style and material types to create a sink that is perfectly catered to you.
Looking to remodel your kitchen? Tops Kitchen Cabinet has everything you need at wholesale prices fit for any budget!