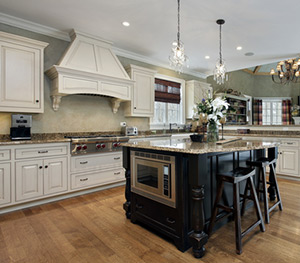 Installing kitchen cabinets are not one style fits all. On the contrary, kitchen cabinets coveted by one person might not work at all for another. Kitchen cabinets can be black, white, blue, custom, semi custom, or stock. In fact the list of kitchen cabinet options can start to seem endless, each with their own pros, cons, and price tag. Not only are kitchen cabinets a big deal aesthetically, they are also either going to make your life easier or more difficult—depending on accessibility and available storage space. The biggest mistake you can make when buying new kitchen cabinets is making your selection based solely off of appearances. To find the best cabinetry for you, we have gathered the top questions you should ask before ordering and installing kitchen cabinets.
1. Installing Kitchen Cabinets: What's Beneath Them?
The toe kick is the space beneath your cabinets, where the cabinet frame meets with the flooring. In kitchens the toe kick is usually a free little gap of space that collects dust and debris after installing kitchen cabinets. Often an ignored space during the kitchen remodeling process, the toe kick can actually offer some uniquely useful benefits. For instance, some people are now installing kitchen cabinets with an extra 'hidden' pull out drawer where the toe kick is. All appears the same, but by bending down and pulling on a discreet handle, a drawer pulls out offering great storage for things like baking pans and serving platters.
While the toe kick generally remains the same color as the cabinet frame or floors, you can add a different color here for a unique border. Lighting fixtures can also be applied on the underbelly of toe kicks, providing a modern (and rather useful) glow of light beneath your kitchen cabinets. Just think, with lighting applied so close to your floors you'll never miss a patch of crumbs while cleaning again! (Learn More)
2. Installing Kitchen Cabinets: What's Behind Them?
So you have found the cabinets of your dreams, but have you peeked inside of them yet? Before you make any final decisions and begin installing kitchen cabinets, it's important to find out what sort of storage space a cabinet has to offer. Cabinets can contain a wide variety of shelving, some have pull out shelves, and others have cubby shelving. Depending on the type of storage you need, you will want different cabinet inserts. Remember, a kitchen cabinet is not perfect unless it offers adequate storage for all of your kitchen caveats.
3. Will You Add Lighting When Installing Kitchen Cabinets?
Earlier we mentioned adding lighting to your toe kicks, but there are other ways lighting can enhance your kitchen cabinetry. Low profile LED strip lights are one type of lighting used on the undersides and insides of kitchen cabinets. This can provide a nice look at night, but it is also incredibly helpful to find your way around. Adding automatic lighting to your kitchen cabinets might be one of those things you will wonder how you ever lived without.
4. What Conserves Space When Installing Kitchen Cabinets?
No matter how many cabinets you incorporate into your kitchen remodel, you may feel concerned that you'll still turn up short on storage space. Coming up with creative ways to conserve space is ideal in every kitchen, regardless of square footage. Clutter is currently out of style, so instead of crowding your kitchen counters with knife sets and can openers, look towards the bottom side of your upper cabinets for help. You can add so many different attachments to the bottom of your cabinets, such as a set of knives, or a can opener. You can also attach a rack for wine glasses, or coffee mugs. This provides a decorative and functional display, all thanks to the often-unused bottom portion of your upper cabinets. Finding creative ways to conserve space can add more flexibility to your kitchen cabinet remodel. (Read More)
5. Installing Kitchen Cabinets: How Long Should They Last?
Do you plan to live in your home for a long time, looking at your new kitchen cabinets for years to come? Unless you are remodeling for resale purposes, your answer is likely yes. In which case you might want to think twice about trendy kitchen cabinet designs, sticking instead with more classically cool styles. If you are craving something funky, accessories or affordable appliances might be better to play around with, while keeping your kitchen cabinets more neutral. Small accessories are easy to change once you tire of them, but kitchen cabinets are far more permanent. Ask yourself: will I like these kitchen cabinets today, tomorrow, ten years from now?
6. When Installing Kitchen Cabinets, Where Will Your Microwave Go?
A popular kitchen trend nowadays is to hide the microwave. While microwaves were often hung above the stove previously, high-tech range hoods have misplaced microwaves. In some kitchens the microwave sits out on the counter, unfortunately this hogs up a lot of counter space. If your microwave is not hitched up on the wall somewhere and you need a place to put it, designating a certain cabinet for your microwave is a great option. When thought of at the last minute, your microwave might end up in an awkward location where you practically have to sit on the ground or climb on the counters to use it. When you incorporate your microwave into your cabinet planning you can create a more functional location for your handy-dandy microwave. (See More)
7. What Is Your Budget For Installing Kitchen Cabinets And What Is Most Important To You?
Your budget is very important and should be identified at the start of your project. If you know from the beginning how much you have to spend and what is most important to you, you can make decisions that adhere your budget but still provide all of the necessities you are counting on. If instead you plan as you go, you may end up going over budget before the project is complete, axing your opportunity to add important features you are looking forward to. Set a realistic budget and list the most important things you want to include, this way a professional can help you decide where to cut corners and where to splurge for your ultimate kitchen remodel.
8. Before Installing Kitchen Cabinets, What Materials Are Used?
Once you find a style of cabinet that you like best, you want to be sure that the materials used to craft cabinetry are high quality. Long lasting cabinets must be made using durable materials, such as solid wood. Once you are interested in a certain cabinet, find out what materials are used to create it, and the average life expectancy of these materials. The shape and size of cabinets can impact wear and tear too; tall cabinet doors with a wide frame are more likely to warp due to water damage. Asking lots of questions about the cabinets you are considering can help you avoid picking the wrong cabinets for your kitchen remodel. Also important to the longevity of your kitchen cabinets is how well they are installed.
9. Should You Be Installing Kitchen Cabinets or Flooring First?
If you are undergoing a complete kitchen remodel you may be wondering, which goes first, the floors or the kitchen cabinets? All cabinets are installed a certain distance above the ground, allowing you to change your cabinetry without having to change your floors at the same time. It is suggested that you install flooring first, and then add the cabinets because it's more likely cabinets will become damaged when floors are installed rather than visa-versa. Plus, by installing floors first you will have a pre-established smooth transition between your cabinets and floors, known as the toe kick.
You can always wait to apply the final layer of polyurethane to your cabinets after your kitchen remodel is complete. This helps remove any minor nicks or scratches caused during the installation of countertops, flooring, or whatever else.
The only time it is recommended you install the cabinets before the floors is if you are going with floating floors. Otherwise, flooring that is nailed or glued down should come before installing kitchen cabinets. (More Information)
10. What Type Of Options Are Available Before Installing Kitchen Cabinets?
There are a number of cabinet types, knowing what they are and their associated benefits and prices can alter your remodel.
Stock cabinets are the most affordable option, they are an assortment of standard size, made to order cabinets that cannot be altered or adjusted. Therefore, if you have an oddly shaped space you need a cabinet to fill, a stock cabinet may not be the right option. If you just want standard sized cabinets, stock cabinetry can leave room in your budget for other upgrades you will appreciate more thoroughly.
Semi-custom cabinets are the next step up in cabinetry. They are made before you order them but can be adjusted for size and other customizations. Semi-custom cabinets tend to be better quality than stock cabinets, meaning you will likely get more use out of them—helping to make up for their slightly higher price tag.
Custom cabinets are the most high-end option available. While they will cost you the most, they offer you the ability to customize your cabinets however you want. Carefully crafted to fit your specific order, custom cabinets utilize the best materials for the greatest durability.
Your dream kitchen cabinets are within reach! At Tops Kitchen Cabinet we offer high quality kitchen cabinets at affordable wholesale prices.