6 Popular Kitchen Styles—Which One Is Best For Your Remodel?
What style kitchen do you want? If you feel overwhelmed by this question you are not alone. While you might know certain details you want your kitchen to include, cutting it all down to one particular style can feel constricting. Especially if you don't know all of the different types of available kitchen styles out there—and there are a lot of them! Here we provide answers about popular kitchen styles, detailing 6 of the most popular styles people are going chop-crazy over. Find out if any of these 6 kitchen styles are right for you, if not you still have a world of other options to choose from!
1. The Farmhouse Kitchen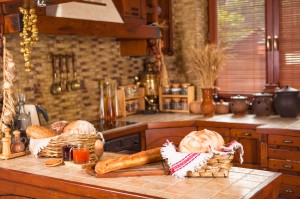 Homey, warm, maybe even a little cluttered, it's all a part of the Farmhouse Kitchen's charm. Almost anything goes in a farmhouse kitchen. Imagine white cabinetry highlighted by an antique navy blue rug adorned in colorful birds. Since different styles can get mixed and matched together, it's the little details that put the farmhouse into your kitchen.
Farmhouse Kitchen Ideas:
Cluttered open-faced cabinets with colorful china packed visibly inside.
Farmhouses have big tables. Add an aged looking table (preferably wood) that is big enough for the whole family!
Include an original farmhouse style sink.
Don't forget the flooring! Floors don't have to be worn or wood, you do have options. You can even go with black and white-checkered tiles, just look for a classic flooring that might be found in an old farmhouse and you're good to go.
Add vintage accents, such as an aged decorative sign or wall clock.
Install an old-fashioned range hood. You can have a brand new hood built to look like the type of range hood used back in the prairie days, with stovepipe and all.
2. The Traditional Kitchen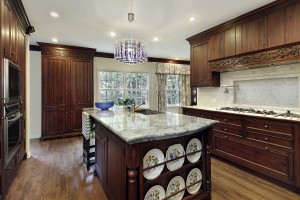 When you think of a traditional kitchen maybe you think plain and simple, but instead traditional kitchens pull out all of the stops. Large chandeliers, richly patterned chairs, and ornate cabinet door handles. A traditional kitchen can appear dramatic and very high-end. ' No matter how fancy, a traditional kitchen should always feel homey and warm.
Traditional Kitchen Ideas:
Must have sleek and luxurious countertops.
Distressed kitchen cabinets, giving off an antique appearance.
Ditch stainless steel for that bronze faucet handle instead.
Combine light and darker elements.
Adorn kitchen cabinets with ornate handles.
3. The Rustic Kitchen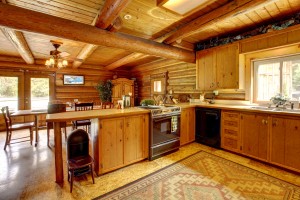 Rustic and farmhouse are similar, except rustic kitchens tend to be darker, and more masculine. Dark woods that appear distressed, aged, and full of history make a rustic kitchen come to life.
Rustic Kitchen Ideas:
Add vintage appliances that you would not see in most kitchens. You can stick with modern appliances, but opt for red or some other color, or style, that sparks nostalgia.
Mix and match your kitchen cabinet handles.
Mix shinny new counters with worn cabinetry, or visa-versa.
Instead of classic kitchen tiles, opt for accent walls made of rock or brick.
Add a fireplace for a top-notch rustic kitchen.
4. The Modern Kitchen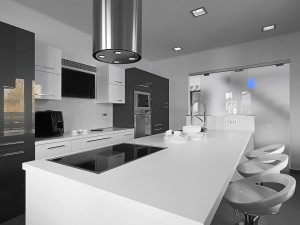 The modern kitchen was made with the minimalist in mind. If you are the type that can't stand clutter and doesn't see the need in endless knick-knacks, a modern kitchen might be just right for you.
Modern Kitchen Ideas:
Shinny, overly polished surfaces–cabinets and counters included.
Kitchen cabinets are usually inset, and built flush with the cabinet box for sleek lines.
Kitchen cabinet handles are also inset and discrete.
5. The Transitional Kitchen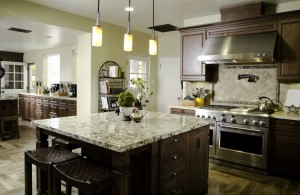 Are you thinking: "But I want it all!" If it's hard for you to plug your style into one 'type' you might be interested in the transitional kitchen. Just like its name suggests, this style offers you the option to transition different styles throughout your kitchen. Of course, all elements must flow cohesively. In other words, there are still rules when it comes to transitional kitchens.
Transitional Kitchen Ideas:
Add kitchen cabinets with flush inset design, featuring a rustic facing and/or prominent cabinet handles.
Bring in colorful splashes or intricate patterns but keep it somewhat simple.
Add textured elements to neutral colors to break up modern appeal.
6. Cottage Kitchens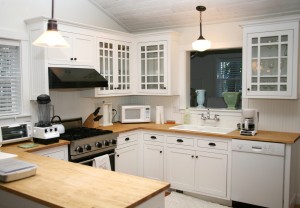 Cottage kitchens have a carefree, simple, charm and they also offer a great-looking kitchen on a serious budget. The cottage kitchen takes you back to a time when things were less complicated, before appliances and fancy technology gadgets got in the way of life. Being inside of a cottage kitchen you should feel as though you have gone through a time machine.
Cottage Kitchen Ideas:
Stick to light colors and patterns.
Include plenty of open-face cabinet storage cluttered with cute dishes, knick-knacks and cookware.
Add worn and distressed kitchen cabinetry.
Include details you would see on antique furniture, such as ornate cabinet handles.
Add hardwood floors.
Add low hanging lights, which are known to make a kitchen feel cozier, or more like a cottage.