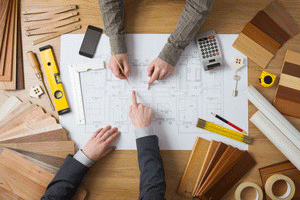 Here are 11 of the most important questions to ask a kitchen contractor in order to identify if you've found the right person to oversee your remodel. 
But first… what does a kitchen contractor do? A contractor helps manage your entire kitchen remodel. You tell them what materials you want to use, how you want the final results to look, and how much you want to spend. From there, the contractor's job is to make it all happen, within reason of course. A reputable contractor can save you money thanks to valuable industry connections with electricians, cabinet installers and so forth. 
Basic Questions To Ask Before You Pick A Kitchen Contractor
Before you ever decide on a specific kitchen contractor it's important to interview a few different options. You should get a bid for your project from at least 3 different contractors.
The most important questions to ask from the get-go include:
How long have your worked as a kitchen contractor?

What sort of training did you undergo to get into this occupation?

What experiences or big projects do you bring to the table?

May I see a portfolio of previous work?

Do you have any references I can contact?

Are you licensed and registered with the state of Florida?

Are you properly insured?
Compare and contrast the answers in order to determine the most qualified pick for the job.
If you speak with any references the following questions are helpful:
Were you happy with the final results of your kitchen remodel?

Was your kitchen completed according to the original schedule? If not, why?

How many, if any, unexpected expenses came up along the way?

Would you use the same contractor for a future project?
Once you've found the contractor you are planning to go with there are a host of other questions you'll want to ask.
11 Questions To Ask Your Kitchen Contractor Before Starting Work 
What is the scheduled timeline?
Make sure to see a detailed timeline of events to determine if it's in line with your vision. Also, just because the timeline says the project will be completed by the 23rd doesn't mean it actually will be. A lot of different things can pop up that will delay your overall timeline. Ask for details on how the contractor plans to make all of these things happen at said time, as well as backup strategies in place if things don't go as planned. If a contractor seems unsure or fuzzy on specific dates and details you may want to reconsider working with him or her. 
Do you have any property protection?
A kitchen remodel can easily create a dust storm that ruins your vintage cream chair in the adjoining room. Or, what if in the process of ripping down cabinets, a water pipe is busted creating water damage? Basically anything could happen when tearing apart your kitchen so it's important to find out what's covered and what's not. Also, will your contractor make sure any surrounding furniture, flooring, surfaces and etc., are covered, or is that something you need to look after? 
Who will be on site every day?
Find out which contractors will be in your home each day and who the lead manager is. Find out who opens up and closes at the end of the day. Many projects include a specific staff member actively working on the project that simultaneously acts as 'superintendent' while managing day-to-day progress. You need to know who this person is because they are your direct point of contact.
What is the line of communication?
Who alerts whom of any issues or changes in project progress and when are you alerted in that process? All contractors working on the project should convene weekly to discuss progress and come up with solutions for any current issues causing budgetary or time line issues.
Do you use spreadsheets and other tools to help make decisions and remain on track?
Question the tools a contractor uses to help keep projects on track in regards to priorities and overall budget. Are these same tools available to you for evaluation in case you need to make a pressing decision regarding a certain material or something of the sort?
When do you need to be there?
Find out when you need to be on site for important meetings or inspections. You will likely want to meet up with your kitchen contractor at least once a week. Experts recommend setting a specific time each week, such as Friday morning, to discuss everything that's happened within the last week and to create a plan for the following week.
On top of weekly meetings, you may also need to be on site for the electrician walk-through, or when the tile-setter creates the layout. There are many dates such as these where you may want to approve progress firsthand before signing any checks. Knowing which dates you will be needed ahead of time helps prevent the chance you miss important meetings.
Do you get a written warranty of any kind?
If something goes wrong with the wood floors your general contractor sub-contracted out, who do you call to report a problem? Find out if you get a list of all contractors or any sort of warranty.
Other things you may want to inquire about include: operating manuals for any appliances or equipment, marked-up plans, lien releases, and mechanical photos pre-installation. 
What is your biggest concern moving forward?
Being upfront and honest with your kitchen contractor is the best way to avoid surprises throughout your remodel. Ask your contractor from the get-go what sort of problems they foresee going into the project. This will help you determine any extra wiggle room in your budget that you may need. It's always good to run through worst-case scenarios so that if they pop up you have a plan of action.
No contractor wants to talk about issues until they are already paid and assigned the job. That's when they will start giving you the real story about how much you're going to be spending. Asking ahead helps shake out the contractors trying to hide reality from you until it's too late.
Do you have options for other materials?
If the marble countertops you've been dreaming about turn out to be too expensive, does your contractor have any tricks up his or her sleeve? A kitchen contractor with a lot of experience and knowledge in the industry will be able to help you decide on the best materials for the job, taking into account everything from lifestyle to budget. Find out if your contractor automatically supplies a variety of options, or if this is something you'll need to inquire about on your own.   
Will your remodel require special permitting?
In many cases, extensive kitchen remodels require special permitting in order to be considered up to code. Obtaining permits takes time and costs additional money. Inquire about all permitting prior to beginning the project in order to make sure you are prepared. There may be options to steer clear of permitting, or at least make it easier to get approved.   
Do you work with Tops Kitchen Cabinet?
Tops Kitchen Cabinet works with both private parties and kitchen contractors. We serve anyone looking to get high quality materials at affordable prices. We offer granite countertops, kitchen cabinets and other kitchen accessories at wholesale prices our customers love. (Reference)