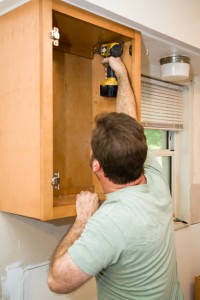 Find out what your perfect kitchen style is by taking our quiz! If you're sick of looking at your same old kitchen décor you should know that the first step to scoring a new kitchen is daydreaming about it. Before you finally order those kitchen cabinets and countertops, and hire someone to demolish your old sink, you've got to dream up what it will look like after everything is said and done.
So what kitchen style best represents you, modern, traditional, or cozy country? Find out by taking the quiz below!
1. Describe the overall colors used throughout your home:
A. Neutrals with pops of color added throughout
B. Black and white
C. Plenty of color and more color
2.  Your favorite accessories are:
A. Both nice to look at and serve a purpose.
B. The latest and greatest pieces currently being raved about in the arts community.
C. Unique and/or quirky antiques that'd be impossible to replace.
What would you classify as the purpose of your dream kitchen?
A. A practical space that serves multiple purposes, including cooking, storage and entertaining.
B. A beautiful space that shows off your style.
C. A warm and cozy space you enjoy cooking in as well as just hanging out.
If your friends had to use one of the following words to describe your personal style which would it be:
A. Classic Beauty
B. Fashionable
C. Down-to-earth
If you could add any one of the following kitchen accessories which would it resemble:
A. Granite countertops
B. Black cabinets with real crystal knobs
C. A fireplace, or perhaps some beadboard wainscoating
What is your favorite kitchen accessory to date?
A. Your center island, it serves too many purposes to disregard.
B. Your fancy wine fridge with multiple settings for different types of wine.
C. Your eclectic collection of rooster clocks, statues and salt and peppershakers 
How often do you remodel or make changes to your kitchen?
A. Every few years you make changes and update old or outdated supplies and appliances.
B. As often as your budget allows, if there is something new on the market you want it and got to have it!
C. Not very often–if it isn't broke there's no need to fix it!
When you invite friends over for dinner it is:
A. An organized event with lots of laughs plus plenty of good food and beverages.
B. A great chance to discuss the latest in art, fashion, and design, mixed with only the very best wine.
C. Controlled chaos that always ends in a good time.
How Often Do You Use Your Kitchen To Cook Or Entertain?
A. I cook as often as I can; it's the healthiest and most cost-effective option for my family and I.
B. About 2 nights a week, when I'm not ordering in or going out to an event.
C. A nice mix of out to eat and good ol' home cooking.
What do you consider to be the most important aspect of your kitchen?
A. The quality of appliances and overall functionality of space.
B. The appearance of the kitchen.
C. A space that is cozy and comfortable and is filled with décor that makes the place feel like home.
If a stranger looked in your closet how would they describe your clothing style?
A. Fashionable but laid-back and comfortable
B. High-end and very polished (What do you mean you can't wear black pumps or shiny leather loafers to the grocery store!)
C. A unique collection of laid-back comfy clothes from multiple decades, the more vintage the better!
Now tally up how many A's, B's and C's you have to find out which you have the most of.
Mostly A's – The Traditional and Practical Kitchen
The perfect kitchen style for you is traditional and practical. Pottery Barn and Williams Sonoma are your kind of stores when you feel like splurging. To you there's just nothing better than a space that is both functional and beautiful. You can create the kitchen of your dreams by making sure everything added to your kitchen remodel serves at least 2 purposes. Productivity is important to you but so is style. Rich colored cabinetry, crown moldings and stand-out accessories will provide the pretty elements you crave in your highly-functioning kitchen.
Mostly B's – Sleek And Modern Kitchen
Your perfect kitchen style is sleek and modern. You are the glamorous type that loves to stay on top of the latest trends in fashion, art, and basically everything. Even your kitchen needs to have that 'wow' effect, as if you're walking into an art gallery as opposed to a workspace. Stainless steel, glass, lacquer, concrete, chrome, marble and granite are all great materials for your dream kitchen. Don't forget about the bling, which you can add via fancy hardware, a glam chandelier or elegant crystal bowls. 
Mostly C's – Warm And Cozy Country Kitchen
Your perfect kitchen style is a warm and cozy country kitchen. You are the friendly type and you know how to make people feel welcome the moment they see you. Your kitchen should have the same cheery appeal. Add warm colors, unique patterns, plenty of antiques, and some good country charm to transform your kitchen into a dream space people love spending time in. Distressed cabinets, brick accent walls, tile flooring, and mismatched accent pieces are all great ways to make your kitchen your favorite room in the house.
Country, modern, or traditional, no matter what type of kitchen style best suits you, Tops Kitchen Cabinet has the countertops, cabinets and accessories you want at wholesale prices you're going to love!