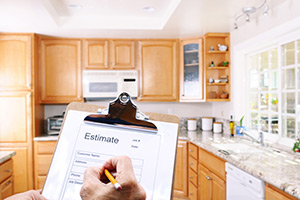 A great kitchen remodel can help fetch a much higher price tag for your home. According to Better Homes and Gardens, kitchen remodels recoup up to 85% of remodeling costs. Although beware, there are certain customizations that don't increase value. If you spend too much money on your kitchen remodel budget you risk never seeing that money again. There is a 5% to 15% kitchen remodel budget rule that states your total kitchen remodel budget should cost at least 5% of your total home value, but it should not exceed 15% of your total home value. (Read More)
No matter what your dream kitchen looks like, there are ways to make it a reality while still staying on a remodel budget. By doing your research you can save a good deal of money and perhaps afford otherwise unaffordable, high-end features. If you are craving intricate kitchen cabinets but stock cabinets are the only option in your remodel budget, wholesale kitchen cabinets are a great option. At Tops Cabinet we offer stock, semi-custom, and custom kitchen cabinets for an affordable wholesale price. Wondering how else you can make your kitchen look high-end without going over remodel budget? Here we provide 8 ways to get the kitchen of your dreams without breaking the bank.
1. Add Square Footage Without Knocking Down Any Walls
If you feel cramped in your kitchen but don't have the remodel budget to start knocking down walls, there are more affordable ways to create a larger feel in your kitchen. For starters, painting your kitchen cabinets, walls, and appliances lighter colors will instantly make your space look larger. You can also add an over-sized decorative mirror to one wall to give off the illusion of more space. Add more depth to your kitchen by installing a few open-faced cabinets where you can neatly arrange utensils or decorative knickknacks. Just make sure open-face cabinets don't appear cluttered or your space might actually feel smaller.
If you refrain from moving any structural features in your kitchen, it is less likely you will go over remodel budget. You never know what waits behind your kitchen walls, and when you start knocking them down new and unforeseen problems can arise. If you can make your kitchen work with all of the original bones in place, you'll have less headaches, unexpected expenses, and room in your budget for other improvements.
2. Save Money On Knick-knacks
You don't need to go out and buy fake fruit, decorative vases, or cookbooks that will only collect dust. Instead, save your money for the bigger details and simply use the ingredients already inside of your kitchen to create elaborate, and fresh displays. Fruits, such as apples or bananas, do well left out on the counters, and so you can use them to decorate, adding edible color to your décor. Vinaigrette bottles, salt and pepper shakers, and candy dishes are great knickknacks that can serve a double purpose. Save money on wall art by hanging a unique shaped cutting board in the kitchen for easy access and useable decoration. If you have older knick-knacks you don't love so much anymore, think about refinishing them or changing them in some way to look like new. Working with the items you already have on hand will open up more room for your overall remodel budget. (More Information)
3. Small Changes That Make A Big Impact To Your Kitchen Remodel
A full kitchen remodel might cost $50,000, although the price of a kitchen remodel can vary wildly. The size and scoop of your kitchen remodel will dramatically impact how much you should plane to spend. Perhaps you don't have $50,000, or even $30,000 to work with. If you spend wisely, even $5,000 can go far changing the look of your kitchen. You can change out the drapes, add a new paint color, replace hardware, change out your old kitchen sink faucet, and spruce up with modern lighting, all on a relatively small remodel budget. These sorts of changes can have a big impact on your kitchen's appearance. Of course, the number one thing you can do to change the look of your kitchen is change out your kitchen cabinets. Can't afford to change out your kitchen cabinets completely? Consider re-painting cabinets and installing new cabinet hardware to create an all-new look for a fraction of the cost. (Learn More)
4. "A Drop Is A lot" When It Comes To High End Kitchen Accessories
Perhaps you remember your elementary school teacher explaining how to use glue, "…a drop is a lot!" The same is true when it comes to pricey touches in your kitchen. For example, if you decorate a small back-splash in your kitchen with high-end tiles the price will be more affordable but the luxurious look will still remain. If there is something you really love but you fear it will eat up too much of your budget, find a way to scale down this same concept. You can make plain or less luxurious tiles appear unique by coloring the grout that runs between them. This can be done by mixing mortar (what goes between the tiles and holds them together) with colored pigments in order to give a new feel to standard tiles. (See More)
5. Be On The Hunt For Cost Effective Changes
Your kitchen remodel budget should be affordable today, and should also help you save money in the future. By implementing certain changes you can save yourself money in the long run. A range hood, for instance, will filter out oils that are let off while you are cooking. Without a range hood, it only takes one year for the oils to build up on your walls, cabinets and appliances. Off-yellow walls and faded cabinetry won't make your kitchen look or feel new, which is one reason to install a range hood. Range hoods are made to suck up and redistribute these oils, along with toxic cooking fumes. This helps breathe new life into your kitchen for years to come. Another way to upgrade and save money is to install energy efficient appliances and lighting. With CFL or LED lighting you can save money on future electric bills, all the while enjoying your kitchen remodel.
6. Plan Ahead For Your Kitchen Remodel Budget
In America, the average kitchen remodel budget costs around $28,030. Depending on where you live and how high-end you want your kitchen to be, the total investment can vary considerably. For high-end kitchens the average price is $54,92. For mid-range kitchens the average price is $22,390. And for lower-budget kitchens, people spend $7,133 on average.
(More Info Here)
How much money you spend on your remodel has very little to do with how well your remodel turns out. Even a big remodel budget can go bust, without careful planning and detailed decisions. Before you do any shopping at all you want to figure out how much money you are willing to spend on your kitchen remodel. Being realistic is important, keeping in mind that the majority of kitchen remodel budgets go over budget by about 20%. For this reason, you want to plan for your remodel using only 80% of your total max remodel budget. Then, if remodeling costs go over budget it won't be so stressful.
Know what you want to spend and what is most important to you in your kitchen remodel. If you dive into a kitchen remodel without first knowing what you really want, the project will most likely be delayed. Your remodel may also end up costing more money because you might not have as much time to make important decisions. Do your research and plan what you want ahead of time so that the remodel process moves with more fluidity, as your dream kitchen becomes a reality. You don't want to complete your kitchen remodel only to discover different style ideas you like even more. A simple online search will reveal hundreds of sites, each one full of unique kitchen design ideas. Let yourself get wrapped up in the images, this is the best way to know what options are available and what you like and don't like.
7. Hire the Right Professional For The Job
58% of home-owning Americans say they plan to hire a professional to help take care of their upcoming remodeling projects. When it comes to kitchen remodels, hiring skilled professionals is always recommend. Although you don't want to go with the wrong company or contractor, as this can put a dent in your remodel. Do research and meet with professionals before starting your remodel, not only to see if you get along but also to ensure your budget and ideas are possible. Check over a company's portfolio of past work to see if the style they use fits with what you want.
8. Buy Wholesale Kitchen Cabinets
Kitchen cabinets are the largest part of any kitchen remodel, often taking up a good portion of the budget. Wholesale kitchen cabinets will save you a lot of money on your kitchen remodel. There are three different types of kitchen cabinets, stock, semi-custom, and custom cabinets. Custom cabinetry is the most expensive although custom cabinets offer unsurpassed customizations and quality. By purchasing wholesale kitchen cabinets you might be able to afford more customized options. You don't want to cut any corners when it comes to kitchen cabinets, but with wholesale cabinets you can save money and still reserve a high-end look. Plus, this opens up your budget to splurge elsewhere. For a high-end kitchen on any budget, Tops Kitchen Cabinet offers affordable wholesale kitchen cabinets of all types.