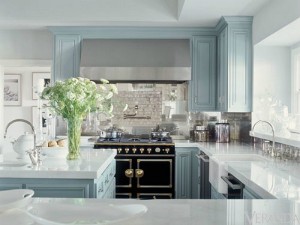 These 6 jaw-dropping celebrity kitchens are sure to help inspire your kitchen remodel. It's interesting to take note of the splurges celebrities indulged in and where they cut corners. Which is your overall favorite, and what stands out most about each of these kitchens to you? The answers to these questions will give you a good idea what to splurge on for your kitchen remodel.   
Celine Dion's Kitchen
Celine Dion's 24,000 square foot home located on a private island off Montreal recently found itself on the market. As a result we all get a peek inside her over the top French-style mansion. With a list price of $29 million, you're likely wondering what kind of kitchen that entails. 
Celine's completely custom kitchen is a gorgeous work of art. She's one of the few celebs that likely had no budget at all when planning her picture perfect masterpiece. The final result is a mix of dark cherry wood cabinets and stainless steel, black cabinetry. It's the flooring that really steals the show thanks to the pop of white it adds to the room, all while paying tribute to the black theme throughout. Hanging lights and pot hangers help create height and definition, and are affordable enough so that you can score the same look. 
Image: http://1cqgxm3l59yi2wwbnn3qy35h.wpengine.netdna-cdn.com/wp-content/uploads/2012/05/Celine-Dions-house-for-sale-Montreal-4-611×405.jpg
Image Credit: Sothebys http://www.sothebysrealty.ca/idx/cms/14140/details.html#
Brooke Shields' Kitchen 
Brooke Shields searched high and low all over Manhattan for the perfect brownstone. When she found 'the one,' she just knew it, although it happened to be a run-down, four-family brick townhouse built back in 1910. She knew it wouldn't be easy to remodel the home exactly how she wanted, but the actress was excited for the challenge. She told Architectural Digest that she's a "real-estate romantic."
The traditional bare-bones kitchen was designed and installed from scratch. She incorporated a dinning area right near the cook space, which is a great way to make the cook feel included while entertaining. The pretty porcelain-colored tiles on the backsplash behind the range match the tiles on the fireplace face, helping to soften all of the dark cabinetry and industrial appliances.
Image: http://1cqgxm3l59yi2wwbnn3qy35h.wpengine.netdna-cdn.com/wp-content/uploads/2012/05/Brooke-Shields-kitchen-Manhattan-townhouse-AD-611×387.jpg
Image Source: Architectural Design
Jennifer Lopez's Kitchen
Jennifer Lopez has more than one home, but it's her California pad that has the prettiest kitchen of all. J-Lo went much softer with her kitchen's color palette than more traditional kitchens, with egg blue cabinets and light-colored countertops. The gorgeous range stove really pops, thanks to the fact it is the darkest point in the room. Other appliances, such as the dishwasher and warming drawer are also a sleek back to match. Chic and sophisticated accessories help play up this gorgeous kitchen. 
Image: http://1cqgxm3l59yi2wwbnn3qy35h.wpengine.netdna-cdn.com/wp-content/uploads/2015/01/Jennifer-Lopez-kitchen-sink-Veranda-Jan-Feb-issue.jpg
Image Source: Veranda magazine
Gerard Butler's Kitchen 
Gerard Butler's Chelsea loft has quite a fancy looking kitchen, but in a rustic, middle ages sort of way. Details to take note of include the walls, and backsplash between the top and bottom cabinets. Also, the main cabinets are mismatched with the center island cabinets, but somehow it all works really well together. Accents such as the pretty chandelier help draw the eye around the rather busy room.
Image: http://www.currb.com/property/gerard-butlers-chelsea-loft/gerard-butler-kitchen/
Image Source: CURRB
Ellen DeGeneres' Kitchen
Ellen DeGeneres has been called a "property hound" in recent years due to all of the California properties in she has purchased, remodeled and sold. One of her many projects included this 1963 Buff & Henseman house in Beverly Hills.
Ellen remodeled the kitchen so that it has a very basic feel, although at the same time the unique dish rack hanging over the center island and the incorporation of green tiles and light wood paneling make it anything but simple. If you take a close look, you will see that every inch of space was used to make it as functional as possible. For instance, a lower lip was stationed at the island in order to allow room for barstools, and shelving was added to the wall beside the range stove.
Image: http://static01.nyt.com/images/2014/04/24/garden/20140424-ELLEN-slide-3DRY/20140424-ELLEN-slide-3DRY-jumbo.jpg
Image Source: The New York Times/ Rodger Davies
Billy Joel's Kitchen
Billy Joel recently sold his oceanfront Sagaponack, New York home for a cool $19 million. The new owners not only get to brag that they now own 'Billy Joel's old house,' but they also get to enjoy the premium chef kitchen with cathedral ceilings. What stands out most is the massive selection of ovens, warming drawers and burners. This kitchen is truly prepared to accommodate a lot of cooking and multiple chefs. Plus, there is plenty of seating around the kitchen for easy entertaining.
Image: http://edc.h-cdn.co/assets/cm/15/04/54bfb9d1c3a52_-_03-ed-billy-joel-kitchen.jpg
AND: http://edc.h-cdn.co/assets/cm/15/04/54bfea5575e4c_-_19228_3-lgn.jpg
Image Source: Elle Décor http://www.elledecor.com/celebrity-style/celebrity-homes/news/a2559/billy-joel-nate-berkus-beach-house-house-beautiful/