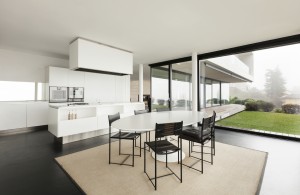 Your mother's kitchen was full of roosters, colorful hand-painted China, and plenty of knick-knacks. Today's modern kitchens offer something for those seeking a kitchen that looks nothing like this. Instead of feeling overwhelmed by the amount of stuff packed into one space, the modern kitchen aims to provide less clutter and more space to breathe.
Modern design works great for large kitchens but it also does well for small kitchens, after all the basic ideologies behind modern kitchens overlap the ideologies behind a small kitchen. Which is, keep things simple, uncluttered, and sleek. No matter what space you are working with you can renovate your kitchen into a modern masterpiece. If you enjoy modern design read on to learn the top 10 traits of a great modern kitchen.
What Is Modern Kitchen Design?
Modern design is fuss-free, bold, and far from cluttered. It is not a farmhouse kitchen and it's not brimming with Victorian-style elegance. Modern kitchens ditch soft, round edges for sharp corners, sleek surfaces, and some industrial charm. Modern kitchens are vastly different from contemporary kitchens, although the two are easily mixed up due to their similar sounding titles. A modern kitchen has more strict rules than a contemporary kitchen, which has a modern appeal but often incorporates other styles and details.
Top 10 Traits Of Great Modern Kitchens:
1. No Clutter
Some kitchen designs include clutter as part of their appeal, but not modern kitchens. A modern kitchen is a simple space that is not overwhelmed by knick-knacks or accessories. That being said, many modern kitchens incorporate open face cabinetry as a part of the overall design. While this looks great and can add some character to your kitchen you must be careful that the shelving does not become cluttered. Open shelving in a modern kitchen might include a basic stack of clean and orderly dishes, thus staying true to the modern, sleek, and no mess appearance modern style relies on.
2. Modern Cabinets
The look of your cabinets has a lot to do with the overall design of your kitchen. Cabinets with loads of detailing, fancy hardware, and standout features are not modern. In order to score modern cabinets you need functional, sleek, and unpretentious cabinet faces. Bright white cabinets that blend almost seamlessly into the walls are going to give you the modern look you are seeking. That doesn't mean you must stick with white, modern kitchen cabinets come in a variety of colors. Regardless of color, the more seamless your cabinets appear, the better.
Instead of ornate hardware, one popular choice for modern kitchen cabinets is pull out drawers with discreet industrial style handles. This offers a more seamless appearance but still makes opening and closing your cabinets easy. Pull out cabinets offers something extra too: easy access and visibility of everything stored inside.
3. Neutral Colors
The overall feel your space provokes has a lot to do with the colors you use. You have a lot of options when it comes to color, although modern kitchens tend to rely on one main solid neutral color. Different shades of whites, bold hues of grey and sleek silver are some common colors associated with modern kitchens. In order to add more color to the mix, a splash of red or blue can be applied to a backsplash or accent wall. According to interior designers, navy is the "new black," and offers a great splash of color that isn't too overwhelming for modern design.
Modern kitchens are starting to use more color, but you still must be careful. Kitchens with too much or too many bright colors can start to look more retro than modern.
4. Countertops For Modern Kitchens
The countertops in your kitchen provide a space to cook on, prepare food, and even decorate—albeit minimally in a modern kitchen. Your countertops are incredibly important to the overall appeal of your cooking space. Many people still turn to granite for their countertops, but granite is often left unpolished and/or has not been honed or flamed to give it a more traditionally modern look. (Learn more about countertops)
More and more people are starting to use light shades of Quartz and marble, in particular Calcutta Gold marble, for countertops. You can take it in a completely different direction by installing dark countertops as well.  Modern kitchens often have an industrial appeal, which is why metal countertops are rising in popularity as another option.
5. Modern Stainless Steel
Skip out on the wood and brick, these traditional building materials are not considered modern. Stainless steel offers a much more modern appeal, and you can use it from your countertops to your appliances.
Everything in a modern kitchen should look new, shiny and beautiful. Hence why stainless steel appliances are so popular in modern design. Stainless steel appliances have remained popular for years in many different kitchen styles; their classic appeal allows you to happily keep the same appliances for many years to come.
Going with high-end options such as Viking, Sub-Zero, and GE Monogram might cost you more but it almost always pays off. Not only will these appliances last a really long time, but they are also considered a selling point when the time comes to sell your home. Just take a peek at the real estate section of a local magazine or newspaper and you will see home listings actually cite high-end kitchen appliances as a selling point.
Stainless steel is also great to use for countertops, and other elements of a modern kitchen. It is easy to clean and offers that industrial appeal associated with modern design. Still, stainless steel is known to scratch due to the fact it is a metal. Certain finishes can help, but if small scratches will catch your eye and drive you crazy this is something to think about before adding too much stainless steel to your kitchen.
6. High End Modern Features
When remodeling a kitchen there is always a budget involved, and many times techy features just don't make the cut. But, if you have any extra wiggle room you should consider installing features so modern they are futuristic. For instance, you can install dishwasher drawers for small loads of dishes, or pull out refrigerator drawers located beneath cabinets or countertop space. Just imagine, turning unused space into a stainless steel refrigerator drawer that pulls out and offers the perfect space to store your beverages, or anything else that needs to be kept cold.
7. Large Island To Socialize
The kitchen is the center of the home, a hub for people to socialize, hang out and eat. The grandest modern kitchens typically include a large center island with plenty of bar stool seating for guests and family members to congregate around. With the right countertop materials you can create a beautiful addition to the kitchen that also serves incredibly practical.
8. You Can Never Have Too Many Sinks
You can never have too many sinks in the kitchen; in fact sinks can be added just about anywhere. Just think, one sink to wash dishes and another to wash your veggies! Having a sink on your center island can make cooking and cleaning easier, and the industrial appeal will pay tribute to the modern design. Chunky, unique sink faucets and deep stainless steel basins make stylish sinks, as well as many other options you have to choose from. You can have some serious fun with sinks, playing with different depths, sizes, and colors, maybe even add a built-in drain board to the mix.
9. Horizontal Grains
The modern kitchen was one of the first places designers recently started using horizontal wood grain as opposed to vertical. Wearing horizontal strips is said to make your mid-section look larger, which isn't a good thing. Horizontal strips have the same widening effect on your kitchen, but this is a good thing. Changing the orientation of your wood grain to horizontal will instantly evoke a new appeal to your kitchen, while adding a unique personality to your space.
10. Open Floor Plan
A kitchen tucked away from the rest of the home, trapped in a dark and desolate location is far from what modern strives to offer. If your kitchen is separated from other parts of the house, and sort of feels like a cave, you can add windows to open up the space. If you have room in the budget you may also want to consider knocking down walls. Modern design is about functionality and comfort, just as much as it is about aesthetics. An open floor plan makes your home more modern, and less old-fashioned.
How To Create A Modern Kitchen That Remains Modern
The definition of modern means relating to the present times as opposed to the remote past. When designing a modern kitchen people often worry that their kitchen will go out of style as soon as the new 'modern' era comes to a close the following year. Great kitchen design is not going to go out of style in a year, or even 5-years. While new additions and options for modern kitchens will always be made available, the overall premise will stay the same for many years. Instead of focusing too much on creating a 'modern' space, focus on creating a space that you love to look at. If you love the look of your remodeled kitchen, chances are you are going to continue to love it for many more years.
Tops Kitchen Cabinet offers a wide selection of modern kitchen appliances to enhance your remodel. We offer cabinets, countertops and more at wholesale prices you are sure to love!