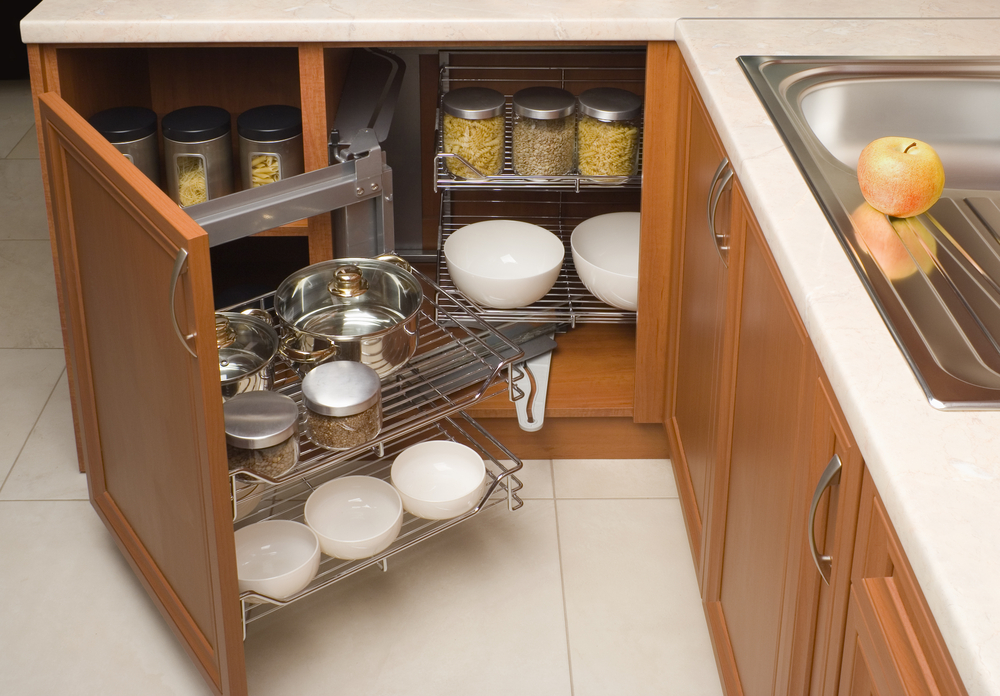 How to Make the Most of Your Kitchen Cabinet Storage
The average kitchen in America has boomed in size over the last 30 years, sitting today around 300 square feet. Many still complain that they don't have enough kitchen cabinet storage space in their kitchens though. That's because more important than the actual dimensions of a kitchen, is how functional it operates. Sure room to stand, sit, or throw a party is nice, but available storage space can really change how you feel about your kitchen. Without adequate room for food, utensils, or even dishes, kitchen cabinet storage can start to appear cluttered and disorganized. Functional cabinet space can make the same size kitchen look and feel bigger; to maximize the space here are 5 tips & tricks for kitchen cabinet storage.
1. Pick the Best Functional Cabinet Doors
Pocket drawers are very functional, allowing one to hide the microwave or toaster oven only when they want to. When pocket drawers are opened up, you can slide them back inside of the cabinet in order to open up the space without blocking small walkways, or other parts of the kitchen. Designers often place toaster ovens, microwaves, or breadboxes behind pocket cabinet doors, when not in use you can close them up for an instantly clutter-free kitchen. Pocket cabinets are one of the many great solutions for kitchen cabinet storage dilemmas. It's important to carefully think over your cabinet remodel decisions, for instance you want to avoid installing cabinets that will interfere with one another. You'd be surprised how often remodelers install a drawer for spices that can't be opened at the same time as the oven, or whatever the 'bumpy' situation may be.
2. Think Outside of the Box to Find Extra Storage Space
Perhaps you are struggling to find a place to store cases of water, bottles of wine, or other bulk groceries. Instead of stacking things on top of the fridge, or leaving your kitchen cabinet storage packed full beyond recognition, look for alternative ways to get creative. For instance, a window seat in an adjoining living room is the perfect place to install sliding drawers. Drawers can add a whole new look to a window seat or wall, and even if it's not directly in the kitchen it can provide a tidy space for items you don't need to access on a daily basis.
3. Create Storage Inside of Storage
Have you ever opened a drawer and had to remove a bunch of pans from the top just to reach the pan you were after? Never again, turn any ordinary kitchen drawer superior by adding dividers that organize and make the most of any available space. For example, install dividers in the shelf above the oven so that your cooking pans, serving platters, and baking dishes can share the same cabinet, while remaining easy to access and identify. This same concept can be applied to pullout drawers as well, create a slot for every pan and lid to avoid awkward stacking them in an inadequate space. Find More Storage Ideas.
4. Tap Into Precious Storage Space Under the Sink
What does your kitchen cabinet storage space beneath your sink look like? If your kitchen is comparable to the average American kitchen it is likely a bit of a mess. Cleaning supplies, trash bags, sponges, and even recycling bins often end up all stuffed beneath the sink. Take everything out and you will realize just how much space you actually have under there. In order to make the most of it, neatly store your cleaning supplies on small round turning racks, or by placing shelving on the inside of substantial cabinet doors. For an entire kitchen remodel, have pull out drawers installed above traditional cabinets to make space for sponges and other small items that can get lost in the dark abyss below the sink. Maximize Storage Space.
5. Make Kitchen Cabinet Storage Decorative and Functional
For some people, no matter how many drawers their kitchen boasts, there is never enough space. To add additional storage room to your kitchen cabinet storage you can turn to design solutions instituted by the pros. Do you have too many pots and pans to fit in a designated drawer? Then perhaps a pot rack, or other decorative feature, will help provide the excess space you desire. Often hung above a kitchen's center island, pot racks can conveniently store surplus pots and pans, all hung from their designated hook. You can also utilize free wall space with floating shelves to store cookbooks, a favorite vase, or even coffee cups. Get creative and you might be surprised how many ways you can decoratively store some of your favorite surplus kitchen utensils.