Two popular kitchens, both coveted for beauty, charm, and function might look nothing alike. There is no set design model for creating the perfect kitchen, just browsing through the most popular kitchens on Pinterest proves how diverse amazing remodels can look. Looking at one kitchen might make you dream of whitewashed cabinets with big rustic handles, while another might make more discreet cabinets seem appealing. So what really sets apart social media's favorite kitchens, and how can you guarantee that your kitchen remodel has that 'wow' factor. While there is no certain paint color, cabinet style, or countertop that can ensure your kitchen remodel turns out amazing, here we identify 5 things all of the nicest kitchens have in common.
No matter the size of your budget, you can incorporate some of these features in your own remodel for a finished result you (and your guests) will always love.
The 5 Things Popular Kitchens On Pinterest All Have In Common…
1. All-In-One Multipurpose Room
An overwhelming majority of popularly pined kitchens have some sort of open-plan design, where the kitchen opens up into a larger entertaining space. It can get lonely when you are in a kitchen cut off from the whole house, but with an open floor plan you have the chance to socialize, watch TV, and show off your beautiful kitchen remodel! Kitchens that open up into family rooms or large dinning rooms are functional and fun. A center island equipped with chairs for sitting can operate as a sufficient way to close off the kitchen from the adjoining room.

2. Detailed Ceilings & Chandeliers
The greatest and most coveted kitchens always have some sort of ceiling details, either crown molding, wood panels, or hanging décor. If you don't have the budget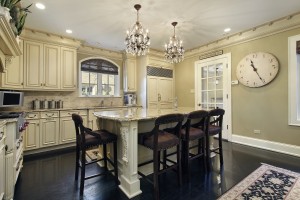 for detailed wood paneling or puffy crown molding reminiscent of soft clouds, try installing a unique chandelier (available in an assortment of styles) to hang over the center of your kitchen. Want to hang something more functional? Look towards energy efficient lighting or even a pot rack if you need more storage space, anything that gives your kitchen that extra touch of character.
3. Cool Cabinet Storage
Commonly pined on Pinterest are creative ways to add personalized storage to your kitchen. Not only are these features fun to show off, but also they will help organize your kitchen. For instance, add a pull out drawer that has a few deep circular compartments for removable metal tins, here you can store your spatulas and other cooking utensils that typically clog up kitchen counters (see here).  Another crazy convenient idea is to have a full-size pull out drawer that looks like all the other cabinets on the outside but actually slides open to reveal a perfect spot for storing your cooking spices.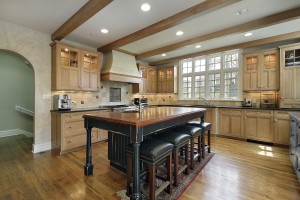 4. A Center Island
Not even 1 of the most noted kitchens on social media is lacking a center island, this might be one of the few features (besides a great set of cabinets!) that all of the best kitchens have in common. Undeniably, a center island can be hugely beneficial; it provides a focal point, a place for people to gather 'round, storage, and also a place for the cook to get some work done. Not all kitchen islands include a sink; this is an extra cost that should be decided based on preference and necessity.
5. A Variety of Kitchen Cabinets
When every kitchen cabinet is the same shape and size it looks cohesive, neat and tidy; but some of the best-designed kitchens are
appreciated for their use of diverse cabinetry. An open-faced cabinet displaying decorative accessories alongside plain old coffee cups looks nice framed by traditional cabinets, with maybe even a few glass-paneled kitchen cabinets installed at the very top, or along the sides. You don't have to mix it up too much to feel the effect; you can keep the front face design of the cabinets the same, and instead just change up the sizes and shapes of your kitchen cabinets.
No matter your budget, Tops Kitchen Cabinet can help you create the kitchen remodel of your dreams—perfect enough to pin on Pinterest!